It's actually pretty simple…
You either rise to meet the mental demands and physical rigors of a challenging goal, or you succumb to them.
And because victory begins in the mind, all challenges are initially won or lost between your ears.
The very nature of a challenge sets an appropriate stage for practicing mental toughness, which by definition means a psychological edge that enables one to remain focused and confident during high-pressure situations to perform at one's full potential.
Mental toughness means bending the body's software to control its hardware.
It works if you're standing over a putt on the 18th green. It works if you're presenting to a roomful of people. It works if you're serving for game, set, and match.
The fact is…it's irresponsible to take on a big challenging goal without the will, heart, and mindset to win it, as nothing can withstand the power of an indomitable, unconquerable spirit.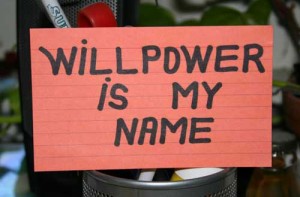 AND, If you passionately believe that you are up to the demands of a challenging goal and committed to seeing it through to the end, it is your right and responsibility to cultivate an unbeatable mind and aggressively enforce your will over the world.
Make something BIG, BOLD and BEAUTIFUL
happen today!


WHAT TO DO NOW? Share your two-cents worth on the importance of willpower as it relates to challenging goals.