Happiness is an aphrodisiac; anyone who has experienced it will crave it again and again.
Happiness is a choice; it's an emotion that can be found in any circumstance.
Happiness is a natural state; it's best demonstrated by children.
Happiness is everywhere; it presents itself in abundance throughout each day.
Happiness is contagious; it's a gift we give to ourselves and spread to others.
Happiness is inside of each of us; it's a spirit we liberate and find spiritually liberating.
Those who live in, share, and spread happiness possess true wisdom.
An essential part of your journey is the pursuit of happiness.
You are accountable for all that you do, as well as for the pleasures that you fail to enjoy during your lifetime.
Therefore, count the days, weeks, and life experiences lost if you have not been moved to laughter.
Contrary to popular opinion, it's perfectly okay to have fun in everything you do.
Being happy is not selfish, insensitive, or self-centered, it's actually natural, normal, and healthy.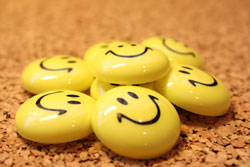 Every aspect of life blends better with happiness.
Happiness and laughter can lubricate the most tedious chore and infuse even the most serious of situations with the lightness of love.
And the mere thought of joy should bring you back to your core values.
Why? because one of the earliest lessons we subconsciously learn is that the joy is in the journey.
As children, we found happiness in playing with our food, learning how to walk, and taking a bubble bath.
But what happened to this kind of joy? Where did we lose it?
Many of us eschew the simple pleasures known to children, because we have tapes running in our heads that say: Grow up. Quit acting like a child. Be serious.
When we regain the childlike joy and happiness of simple pleasures, the process of living more simply becomes much easier.
We therefore see that there is little need for complexity in living, and much happiness in simplicity.
Happiness must once again become the core value that it was during our youth.
Happiness needs to be incorporated into every decision you make, every relationship you enter, and every activity in which you engage.
When asking the question, "Does this decision fill me with joy and happiness?" the answer should be transparent.
MEASURING HAPPINESS
Just as a scale is used to measure weight, it can also be used to measure happiness.
How would you measure the quality of your most significant relationships on a scale from emptiness to complete happiness?
How would you measure the quality of your CHOSEN vocation on a scale from boredom and dread to joy and happiness?
No one should ever be involved in a relationship, or engage in work that is not completely joyful, or that does not provide you with a feeling of immense pride.
HAPPINESS IS A CHOICE
The ideal lifestyle begins with an ideal emotional state. Your outlook on life is not determined by your circumstances, but rather by your choices.
You CAN choose to be happy. Unfortunately, most people don't enjoy life; they simply endure it.
They think that they can't be happy because of all their problems, and that life has to be perfect before they're happy.
But a problem-free life does not exist, so if you're staking your happiness on the absence of problems, you'll never be happy.
If you're ever going to learn to be happy, you've got to do it amidst life's issues.
Happiness is a choice. It's not the absence of problems, it's the attitude that you carry regardless of your problems.
Happiness adds years to your life and life to your years, but we must make it count one day, one moment at a time.